Custom Cut Glass

& Installations
Interior Glass Doors, Walls, and Panels
Need a customized glass shelf, replacement of a broken glass tabletop, or non-glare glass for a picture frame? BGS Glass Service can meet your needs. Our Milwaukee-area craftsmen and designers are here to create the perfect look for your custom job, large or small.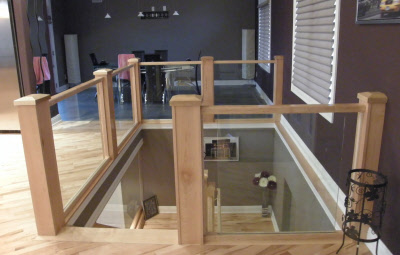 CUSTOM-DESIGNED GLASS CUT TO SPECS IN SOUTHEAST WISCONSIN
Looking for the perfect size and perfectly shaped glass top to protect your living room table? BGS Glass Service can offer a variety of glass cut to size. Looking to install custom glass shelving in your oddly-shaped wall space? We are here to help.
BGS Glass does much more than just install glass block windows in Wisconsin. Milwaukee and all of southeast Wisconsin come to us for:
No matter the project or design space, from standard beveled edges to unique custom shapes, the master glaziers at BGS Glass Service have the expertise to handle all things glass. We cut quality glass to your exact specifications. We provide the Waukesha, Milwaukee, and Kenosha areas with superior glass service, creative design, and high-quality workmanship with superior attention to detail.
Custom Cut Interior Glass Sliding Doors
In addition to sliding glass patio installations, BGS Glass offers a range of contemporary and traditional custom interior glass pieces for every room of your house, including:
Glass sliding doors for closets
Glass sliding doors for bathtubs
Glass sliding doors for bathrooms
Glass sliding doors for kitchens
Glass sliding doors for bedrooms
UNIQUE PROJECTS REQUIRE UNIQUE GLASS CUTTING
While a majority of our business comes from commercial glass jobs and residential window installations, some of our favorite projects come from independent designers and homeowners. Whether you're designing a custom glass table base and are ready to finish your project or you need to protect heirloom furniture, BGS Glass Service will work with you to develop unique, custom glass for your project.
We also have experience installing and creating:
Glass Partitions
Decorative Wall Glass
Cabinet Glass
Glass Plate Switches & Outlet Covers
And more!
Cost of Custom Cut Glass
The cost of custom-cut glass can range from $8 to $40 per square foot. Several considerations affect the exact price of custom-cut glass.
Cost Factors for Custom Cut Glass:
Thickness. Thicker glass features added durability and costs more than thinner glass.
Shape. Your custom glass can be made in virtually any shape - standard squares and circles or complex, irregular, and geometric shapes. A more sophisticated shape will cost more.
Edgework. Complex edge grinding, including custom or special bevels, can increase glass prices.
Strengthening & tempering. Strengthened glass helps withstand wind load and thermal stress. Tempering is best suited for glass facing high heat, high pressure, or explosive environments. Both features increase glass prices.
To learn more about the price of custom-cut glass for your project, request a quote.
Contact BGS Glass Services online or at 262-513-2806 for custom-cut interior glass and mirrors.