Window Replacement and Glass Repair for Sussex, WI
BGS Glass Services: Waukesha County's Best Most Reliable Glass Repair Company
BGS Glass is Sussex, Wisconsin's number-one source for residential and commercial window repair, replacement, and installation. We are a full-service, Waukesha-based window and glass company that services the Milwaukee metro area with a host of custom fabricating services. If your windows are old and cause continuous concern, BGS Glass Services is here to relieve your worry. No more drafty rooms masked by space heaters or plastic window covers. Improve your heat efficiency and comfort with brand new windows from BGS Glass. Imagine closing your windows to hear and feel nothing but the comfort inside your home.
Old windows can cause mold to grow which we all know is a huge risk to our health. New windows will not only increase the value of your home, they will upturn your home's aesthetics all while improving your family's overall well-being. If you've been thinking of replacing your windows, BGS Glass is your best option in Sussex.
Reasons to Replace Your Windows
Rotting frames and/or mold
Condensation
When the temperature of your window is the same as that outside
Drafty windows
High energy bills
Cracked windows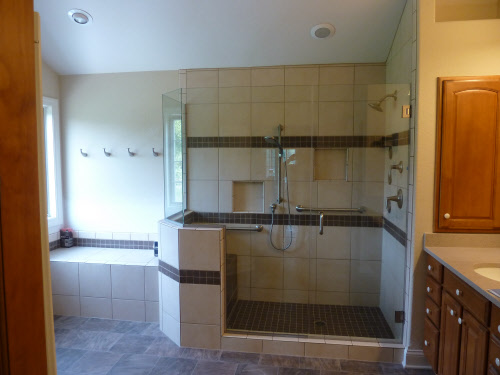 While BGS Glass performs window repair and replacement across Waukesha County including window installations in Sussex, our services are not limited to just this. From screen replacements to new door installations or custom mirror designs, our skilled glass installers are highly trained professionals ready to provide you with the best glass services in Wisconsin.
BGS Glass Services Include:
Window Repairs
Custom Glass and Mirror Designs
Professional Shower Door Installations Create Dream Bathrooms
BGS Glass specializes in shower installations and repairs offering a range of eclectic shower glass styles to suit your dream design. Options include your choice of metal finish, glass texture and styles for frameless, semi-frameless or framed shower doors. BGS Glass Services is recognized for being the leading custom glass shower door company throughout Wisconsin. With flawless installation and execution, our glaziers will make certain your new (or old) bathroom looks and functions beyond perfection.
Not sure what type of shower door installation you need? Stop in at our Waukesha glass showroom to talk with one of our glass specialists for assistance finding a bathroom shower door to suit your needs and style.
Framed Wisconsin Shower Doors – Framed shower doors are typically the most common type, and are extremely affordable for residential properties, large housing complexes, and more! Framed shower doors a rugged, functional, and BGS Glass offers a wide selection of styles and design types to fit your needs.
Semi-Frameless Wisconsin Shower Doors – Semi-frameless shower doors are very similar to framed doors; however, the supportive metal border excludes the main door. The glass is typically thicker due to the need for added strength, and semi-frameless doors are a fantastic addition to any master bathroom.
Frameless Wisconsin Shower Doors – Featuring the thickest glass, frameless shower doors don't use a conventional frame and can be decorated with BGS's large selection of trim and custom glass. Extreme attention to detail must be used when installing frameless glass shower doors, which is why BGS is your trusted Wisconsin shower door installation with over 45 years of experience in the business!
Own A Business in Sussex and Need Glass Services? Contact BGS Glass
BGS Glass Services provides window installations and replacements for businesses small and large throughout Wisconsin. For commercial glass services your business can thrive from, contact BGS Glass Services today. From installing windows in condominium complexes to restaurant chains across Southeastern Wisconsin, BGS is a trusted partner in commercial glass contract jobs.
Sussex ZIP codes served: 53089