Bi-Fold Patio Doors

Installations and Replacements in SE WI
Bi-Fold Patio Door Installation by BGS Glass Services
Bi-fold patio doors are more than just a gateway to the outdoors; they are a bold design statement. These expansive doors, available in different types of wood frames, feature panels of glass that fold like an accordion, creating a stunning focal point in your home. From eye-catching sizes to beautiful finishes and hardware options, bi-fold patio doors let you bring your dream aesthetic to life.
Bi-Fold Patio Doors Perfect for Indoor/Outdoor Living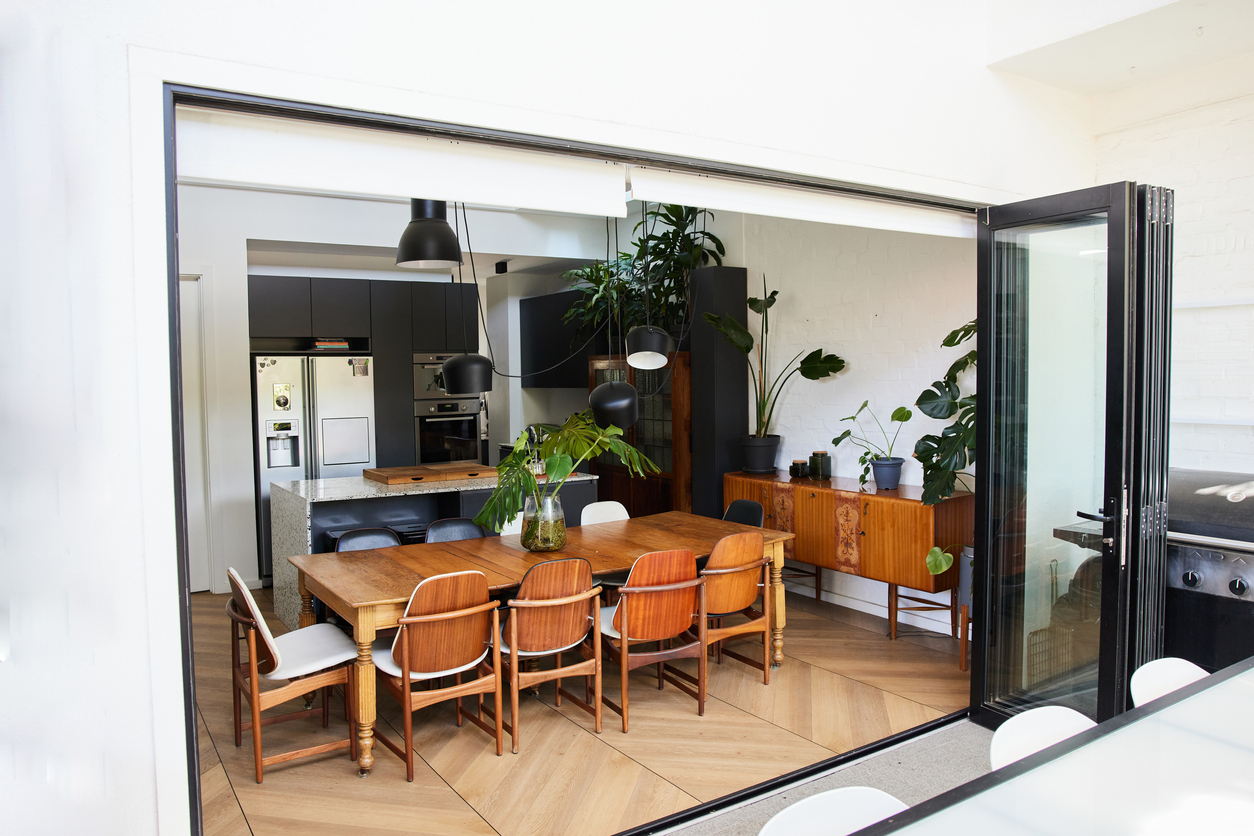 Bi-fold patio doors create indoor/outdoor harmony. These doors open completely, erasing the boundary between your indoor and outdoor living spaces. Whether you're extending your living space onto a patio or an outdoor entertainment area, these doors provide the flexibility you need to enjoy the best of both worlds.
If you're aiming for a contemporary look in your home, bi-fold patio doors are the perfect addition. Their sleek designs and narrow sightlines make them a stylish choice. You can further enhance the contemporary aesthetic by selecting minimalist hardware designs and a modern color palette, such as black or gray.
More Natural Light and Versatile Locations
Bi-fold patio doors aren't just aesthetically pleasing; they also flood your interior with natural light. With expansive panels that give the illusion of floor-to-ceiling glass, they add a touch of drama to any room. These doors are commonly used in kitchens, family rooms and walk-out basements, and more. They come with various track options, making them versatile and adaptable to different locations in your home.
Serving Southeast Wisconsin
At BGS Glass Services, we take pride in serving the beautiful communities of Southeast Wisconsin with patio doors installed to enhance your living spaces. Whether you're in Hartland, Waukesha, Wauwatosa, Brookfield, Pewaukee, New Berlin, Oconomowoc, West Allis, Greenfield, or right in the heart of Milwaukee, our team is dedicated to transforming your home with our exceptional door installations and replacements. Experience the perfect blend of style, functionality, and energy efficiency that our doors offer.
Bi-Fold Patio Doors For Any Living Space
If you're ready to transform your living space and enjoy the many advantages of bi-fold patio doors, we invite you to take the next step. Our experienced professionals are ready to assist you in making the right choice for your home. Elevate your space with Bi-Fold Patio Doors by BGS Glass Services today.
To learn more about the price of your French patio door installation, request a quote.
Contact BGS Glass Services online or at 262-513-2806, for patio door installation or repair.