Southeast Wisconsin's Garden Window Installation Specialists

Garden Windows for Wisconsin Homes
Best Local Garden Window Installers
BGS Glass Services stands out as Southeast Wisconsin's leading garden window installer. Our services include garden window installation, repair and replacement. We deliver top-tier glass services that consistently meet our clients' needs. We understand the importance of offering the finest window replacement services for your home and our devotion is evident in the craftsmanship we bring to every window installation in Southeast Wisconsin.
Garden Windows Installed from BGS Glass Services
Revitalize your home with a custom garden window from BGS Glass Services. Our skilled installers handle the specialized installation and framing to seamlessly incorporate garden windows into your Southeast Wisconsin home. Choose from bay, bow or rectangular garden windows with built-in shelves and seating. Our garden window installations brighten up your interior, ease maintenance with double glazing and provide space to display plants or decor. Give your home a breath of fresh style with a new garden window from BGS Glass Services.
Seamless Garden Window Replacement
Restore your garden window with our garden window replacement services. We remove old garden windows and install new custom units with meticulous care and craftsmanship. Our precision installations seal out drafts while letting light in. BGS Glass Services' garden window replacements refresh your space with updated aesthetics and performance.
Garden Window Repair in Southeast WI
Restore the beauty of your garden windows with BGS Glass Services' repair services. We address foggy glass, deteriorating frames, broken hardware, sealing issues and more with skilled workmanship. Trust our installers to get your built-in garden windows operating smoothly again. We also offer protective restoration to extend the life of your garden windows. Contact BGS Glass Services for reliable garden window repairs that preserve functionality and enhance efficiency.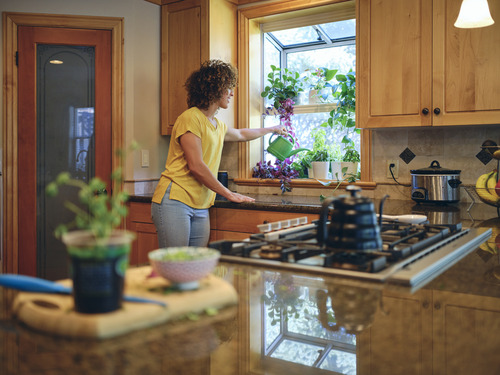 Garden Windows: A Greenhouse Experience in Your Home
Garden windows extend outward from your house and have multiple glass panels, allowing sunlight to enter from various angles. This design not only brightens your living space but creates a mini-climate within the window area. It can be a perfect spot for growing herbs and plants or even starting seedlings, as the enclosed space traps heat and provides an ideal environment for plant growth, even in colder months.
Showcasing Style: Personalizing Your Home with Garden Windows
Garden window installations offer an intriguing opportunity for homeowners to express their creativity and showcase their style. Beyond their functional benefits, garden windows include a spacious sill area, which can be transformed into a decorative space within your home. This extended sill, resembling a mini indoor greenhouse, provides an ideal platform for displaying an array of decorative items. Many homeowners choose to display potted plants, figurines, collectibles or other cherished items. Seasonal decorations and themes can be incorporated, allowing you to celebrate holidays, special occasions or changes in the weather with creative and eye-catching displays. Whether you prefer a minimalist, modern aesthetic or a cozy, vintage vibe, the garden window sill is a versatile canvas where you can experiment with different decorative elements, colors and textures to curate an ever-changing and visually appealing focal point in your home.
Types of Garden Windows
Classic Garden Windows: Classic garden windows, with their timeless design and practicality, are among the most popular choices. They offer a balance of aesthetics and functionality, providing a sunny spot for plants and decorative items while enhancing the overall look of a room.
Bow or Curved Garden Windows: Bow or curved garden windows have gained popularity due to their elegant appearance. They create a unique architectural focal point and offer a wider view compared to standard flat-front garden windows.
Casement Garden Windows: Casement garden windows are favored for their excellent ventilation capabilities. Homeowners who prioritize fresh air often opt for these windows because they can be easily opened to allow a breeze into the room.
Bay Window Gardens: Bay window gardens are a classic choice that remains popular. They add character to a room and provide a larger display area compared to standard garden windows, making them suitable for showcasing a variety of plants and decorative items.
Box Garden Windows: Box garden windows have a square or rectangular shape rather than the traditional trapezoidal design. They are often used in contemporary or minimalist architectural styles.
Corner Garden Windows: These garden windows are designed to fit into the corner of a room, creating a cozy nook for plants and decorative items while maximizing natural light.
Pros and Cons of Garden Windows
| | |
| --- | --- |
| PROS | CONS |
| Abundant Natural Light: Garden windows extend outward from the house, capturing sunlight from various angles. This design floods your interior space with natural light, reducing the need for artificial lighting and creating a bright and inviting atmosphere. | Complex Installation: Installing garden windows can be more complex than standard windows due to their protruding design. Proper installation is crucial to ensure they are watertight and airtight. |
| Versatile Display Space: The extended sill or shelf of a garden window provides an excellent platform for displaying plants, herbs, decorative items or even creating a small indoor garden. It allows you to bring the outdoors inside, enhancing the aesthetics of your home. | Maintenance Requirements: Garden windows may require more maintenance than other window types. The extended glass surfaces can accumulate dirt and require regular cleaning and the plants or items on the shelf may need attention and care. |
| Increased Ventilation: Many garden window types have operable side panels that can be opened to provide ventilation. This can help improve indoor air quality and regulate temperature, reducing reliance on mechanical cooling. | Energy Efficiency: Garden windows can be less energy-efficient than flat windows. Their protruding design can create additional heat gain in the summer and heat loss in the winter, potentially affecting your home's heating and cooling costs. Choosing energy-efficient glazing helps mitigate this issue. |
Building Blocks of Garden Windows
Garden windows are made up of materials known for their durability, aesthetics and performance characteristics. Some examples of such materials are:
Wood
Aluminum
Vinyl
Fiberglass
Contact BGS Glass Services online or at 262-513-2806 to learn more. We regularly service Hartland, Wauwatosa, Brookfield, Waukesha, Pewaukee, West Allis, New Berlin, Oconomowoc, Milwaukee and Greenfield in Southeast Wisconsin.