Bow Window Installation in Southeast Wisconsin

Bow Windows for Wisconsin Homes
Southeastern Wisconsin Bow Window Installation
Rely on the experts at BGS Glass Services for bow window installation in Southeast Wisconsin. Our skilled team precisely measures and expertly installs custom bow windows to enhance your home's aesthetic appeal. Trust us to handle the specialized framing, flashing, sealing and finishing for impeccable fit and function. Bring a bow window's beauty and architectural interest to your Southeast Wisconsin home with BGS Glass Services' replacement window services.
Bow Window Installation from BGS Glass Services
When it comes to bow window installation, BGS Glass Services is your trusted partner. Our seasoned team of professionals brings expertise and precision to every project, ensuring efficient and accurate installations for your home's bow windows.
Effortless Window Replacements for a Renewed Space
BGS Glass Services offers bow window replacement solutions tailored to your Southeast WI home. Our skilled installers conduct a thorough examination of your existing windows, identifying wear, decay or inefficiencies. We expertly remove old windows and install top-quality replacements, using cutting-edge techniques to optimize insulation, reduce sound and enhance thermal performance. With BGS Glass, you can trust in an elevated environment offering enduring elegance, comfort and energy efficiency.
Reliable Bow Window Repair
BGS Glass Services' bow window repairs excel in reviving your windows' functionality and aesthetics. Our installers expertly handle prevalent issues like sash misalignment, broken balances and deteriorated weatherstripping, resulting in seamless operation and heightened energy efficiency. We also replace fogged or damaged glass panes, eliminating drafts and reinstating bow window clarity. Rely on BGS Glass for bow window repairs that improve your units' performance and lifespan.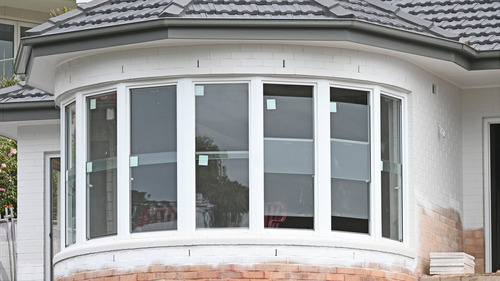 Panoramic Views with Bow Window Installation
Bow windows are distinct in their curved design, featuring a gentle arch that creates a smooth, continuous curve rather than the flat angles of bay windows. This unique curve allows for a wider expanse of glass and a more panoramic view, making bow windows an ideal choice for maximizing natural light and expanding views in a room. Their elegant curve also adds a touch of architectural charm to any home.
Style Meets Function with Bow Windows
Bow windows offer a distinctive opportunity for interior design creativity. The extended sill created by the curve of the window can be transformed into a comfortable seating nook or even a small garden space. This not only enhances the aesthetics of the room but also provides a cozy spot for relaxation, reading or enjoying the outdoor view from the comfort of your home.
More Light and Ventilation for Your Home
Bow windows are designed to provide not only ample natural light but also exceptional ventilation. The multiple panels and angles allow for various window configurations, including operable casement or awning windows within the bow structure. This unique feature permits customizable airflow and ensures that your living space remains well-ventilated and comfortable throughout the year.
Types of Bow Windows
Traditional Bow Windows: These feature a gentle curve with four or more equally sized casement or double-hung windows. Traditional bow windows create a classic look and provide expansive views.
Garden Bow Windows: These are designed to house plants or small gardens within the curved space, often with a glass roof. They are perfect for plant enthusiasts and add a touch of greenery to your home.
Geometric Bow Windows: Geometric bow windows have angular segments, creating a more modern and distinctive appearance. They can be customized with different window styles, such as fixed, casement or awning windows.
Colonial Bow Windows: These windows typically have a colonial grid pattern on the glass, adding a touch of traditional charm to your home's exterior.
Customized Bow Windows: Many homeowners choose to customize their bow windows to fit their unique preferences and home architecture. Custom bow windows allow for a combination of different window styles and sizes, providing a truly bespoke look.
Box Bay Windows: While not precisely bow windows, box bay windows have a similar projection from the house, but they have more defined angles, creating a square or rectangular shape. They offer a unique architectural touch and additional interior space.
Pros of Bow Windows
| | |
| --- | --- |
| PROS | CONS |
| Enhanced Natural Light: Bow windows offer a wider expanse of glass compared to standard windows, allowing more natural light to enter your home. This increased illumination can make your living spaces feel brighter and more inviting. | Cost: Bow windows tend to be more expensive than standard flat windows due to their curved design and the need for custom construction. |
| Panoramic Views: The curved design of bow windows provides panoramic views of the outdoors from multiple angles, enhancing the aesthetic appeal of your home and creating a sense of openness. | Limited Privacy: Because of their expansive glass surface and multiple angles, bow windows may provide less privacy compared to other window types. Window coverings or treatments are often necessary for privacy, which can obstruct the view and natural light. |
| Architectural Elegance: Bow windows add a touch of architectural elegance and sophistication to both the interior and exterior of your home. Their graceful curve enhances the curb appeal of your property and creates a unique focal point inside. | Maintenance: Bow windows have more glass panes and joints, which can make them more challenging to clean and maintain. |
Building Blocks of Bow Windows
Bow windows are made up of materials known for their durability, aesthetics and performance characteristics. Some examples of such materials are:
Wood
Aluminum
Vinyl
Fiberglass
Contact BGS Glass Services online or at 262-513-2806 to learn more. We regularly service Hartland, Wauwatosa, Brookfield, Waukesha, Pewaukee, West Allis, New Berlin, Oconomowoc, Milwaukee and Greenfield in Southeast Wisconsin.