Bay Window Installation in Southeast Wisconsin

Bay Windows for Wisconsin Homes
Southeastern Wisconsin Bay Window Installation
BGS Glass Services is Southeast Wisconsin's premier bay window installer. Our company excels at bay window installations, repair and replacements. We are committed to satisfying every client through top-quality window replacement services. Your home deserves the best and our dedication shows in the care and craftsmanship we provide during your bay window installation.
Bay Window Installation from the Experts
Elevate your home with a stunning bay window installation by our seasoned professionals. We offer several designs to match your home's style and use top-quality materials for durability. We prioritize energy efficiency for your home. Precise measurements, seamless integration and proper ventilation guarantee comfort and longevity with each installation. BGS Glass Services transforms your space with a professional bay window installation that adds value and elegance to your home.
Seamless Bay Window Replacements
Our comprehensive bay window replacement services are designed to revitalize your living space. Our team will assess your existing bay windows to identify any wear, decay or inefficiencies. We remove old bay windows and install high-quality replacements, incorporating advanced methods for insulation, noise reduction and thermal efficiency.
Dependable Bay Window Repair
When it comes to restoring your bay windows, our repair services are top-rated. Our skilled installers address sash misalignment, damaged balances and weatherstripping wear. We prioritize functionality and energy efficiency for every bay window repair service. We also replace fogged or damaged glass panes, eliminating drafts and restoring window clarity. Trust BGS Glass for bay window repairs that enhance the performance and longevity of your units.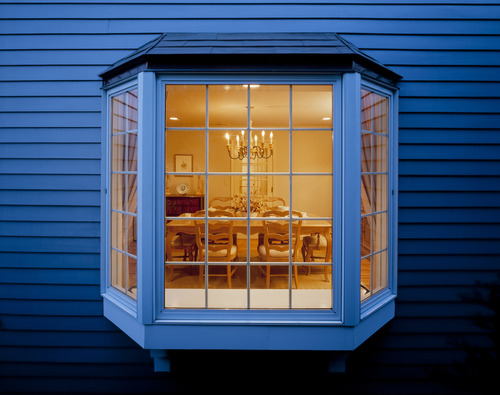 Bridging Indoors and Outdoors with Elegance
Bay windows, unlike standard windows, extend outward from the home's façade, creating a charming nook that invites sunlight and outdoor views into your living space. Bay windows offer a unique opportunity to incorporate built-in seating, storage or even small garden spaces, allowing you to personalize your home in a way that standard windows cannot. Take advantage of the beauty of the outdoors within the comfort of your home with these extraordinary architectural marvels.
Bay Windows for Any Home Style
Bay windows aren't confined to a single architectural style. They seamlessly adapt to various design aesthetics, from Victorian and Georgian to modern and minimalist. Their versatility makes them a timeless and captivating addition to homes, allowing homeowners to customize their appearance to match the overall look and feel of their property. Whether you seek traditional charm or contemporary elegance, bay windows can be tailored to your unique taste and home design.
Types of Bay Windows
Bow Bay Window: This curved bay window features windows that angle out in a gentle arc. The unique shape provides a roomy, rounded space inside the bay.
Box Bay Window: This angular bay window has panes that protrude straight out, forming right angles. The box shape maximizes space and views through multiple panes.
Circle Bay Window: As the name suggests, this bay window's rounded shape forms a half-circle protrusion from the wall. The focal circular window invites natural light in.
Oriel Bay Window: This bay window is located on an upper floor suspended out from a wall without ground support. The oriel's cantilevered position gives it an elegant appearance.
Hexagon Bay Window: This six-sided bay window extends outward in a hexagonal shape for a distinctive architectural look. The angled panes offer panoramic views.

Pros and Cons of Bay Windows
| | |
| --- | --- |
| PROS | CONS |
| Increased Space: Bay windows expand usable interior floor space in a room. The extended area can be used for seating, storage or displays. | High Cost: The angled construction and glass panes of bay windows are more expensive to install than standard windows. |
| Enhanced Lighting: Multiple bay window panes allow more natural light into a room, creating brightness and an inviting atmosphere. | Limited Customization: Bay window sizes and placement are restricted by structural factors, limiting modification options. |
| Architectural Interest: Bay windows add dimension and visual allure to a home's exterior as well as interior. They provide character. | Functional Issues: Projecting bays can create shadows, reduce wall space or present challenges integrating window treatments. |
Natural Light & Bay Windows
Bay windows are renowned for their ability to flood interior spaces with natural light. Unlike standard windows that have a limited angle for light entry, bay windows project outward at different angles, capturing sunlight from multiple directions throughout the day. This not only brightens your home but also reduces the need for artificial lighting, creating a warm and inviting atmosphere while potentially saving on energy costs. Bay windows are an excellent choice for those who appreciate a well-lit living environment.
Building Blocks of Bay Windows
Bay windows are made up of materials known for their durability, aesthetics and performance characteristics. Some examples of such materials are:
Wood
Aluminum
Vinyl
Fiberglass
Contact BGS Glass Services online or at 262-513-2806 to learn more. We regularly service Hartland, Wauwatosa, Brookfield, Waukesha, Pewaukee, West Allis, New Berlin, Oconomowoc, Milwaukee and Greenfield in Southeast Wisconsin.