Custom Decorative Cabinet Glass

in Southeast Wisconsin
BGS Glass Installs a Variety of Decorative Glass for Kitchen Cabinetry, Bathroom Cabinetry, & More
Beautify your Milwaukee kitchen or bathroom cabinets with a range of styles of glass installed by BGS Glass Services. Our expert glaziers will give you a free quote on the work and install the glass type of your choosing -- and you'll be on your way to having a kitchen or bathroom that is the envy of the neighborhood.
Types of Cabinet Glass
Whether you are looking to install, replace, or repair decorative glass for cabinetry, we have got you covered. We offer the following decorative cabinet glass types to fit any of your design needs: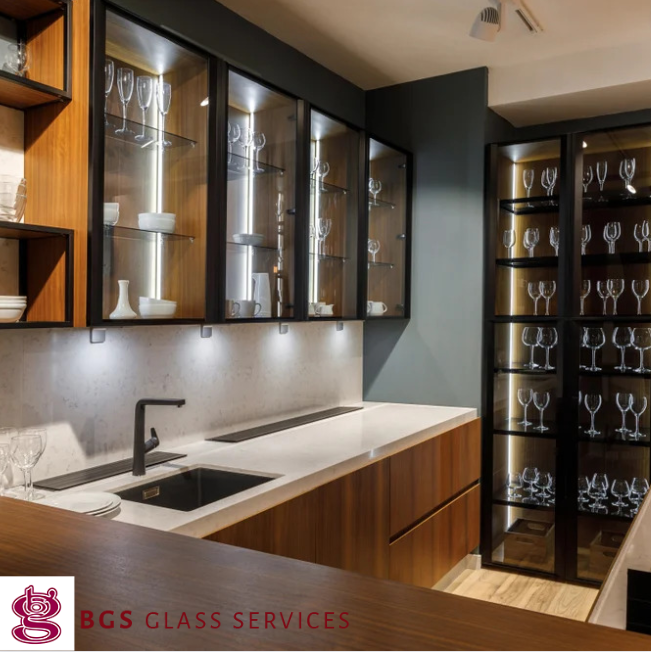 Clear Glass: Clear glass is the most common and versatile option for cabinet doors. It allows full visibility of the cabinet contents, making it ideal for showcasing beautiful dishware or collectibles.
Frosted Glass: Frosted glass offers a translucent appearance that adds a touch of elegance to your cabinets. It provides a level of privacy by diffusing light, while still allowing a glimpse of the cabinet contents.
Mirrored Glass: Mirrored glass creates a sense of depth and spaciousness within your cabinets. It reflects light, making the space appear brighter and larger. Mirrored glass is often used in modern and contemporary designs.
Textured Glass: Textured glass adds visual interest and a unique texture to your cabinet doors. It comes in various patterns, such as ribbed, seeded, or etched designs, providing a distinctive look while partially obscuring the cabinet contents.
Leaded Glass: Leaded glass is characterized by intricate patterns made by combining small pieces of glass with lead came. It adds a touch of sophistication and elegance to your cabinets, giving them a classic and timeless appeal.
You will find a wide range of decorative cabinet glass options to suit your style and preferences. Whether you prefer a sleek modern look or a traditional and ornate design, we have the perfect glass type to transform your cabinets into stunning focal points.
Cabinet Glass Installation
We specialize in professional cabinet glass installation services to elevate the appearance and functionality of your cabinets. Our skilled team is committed to delivering a seamless and precise installation process. Here's what you can expect when you choose BGS for decorative cabinet glass installation:

We begin by consulting with you to understand your vision and requirements. This allows us to determine the ideal glass type, design, and measurements for your cabinets. With meticulous attention to detail, we take accurate measurements and prepare the necessary materials for the installation. Using high-quality glass and cutting-edge tools, we cut the glass panels to the exact specifications.

Our experienced installers complete the installation, ensuring a secure fit and seamless integration with the surrounding cabinetry. We pay careful attention to aligning the glass properly and adding any necessary hardware, such as hinges and handles. The result is flawless glass that enhances the overall aesthetic appeal of your cabinets.
Cabinet Glass Replacement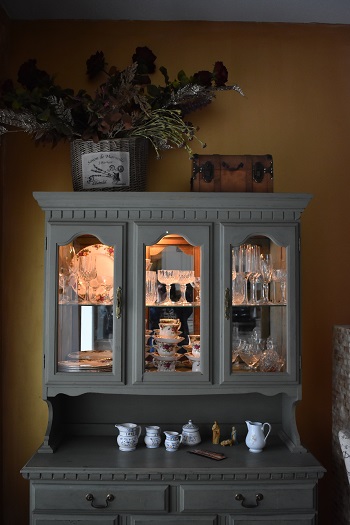 If your current cabinet glass is outdated, damaged, or no longer meets your style preferences, our decorative cabinet glass replacement services are designed to revitalize your cabinets. We also offer high-quality Curio and China cabinet replacement glass for your unique, vintage, and valuable pieces. Our hassle-free replacement process will breathe new life into your space.

We'll evaluate the condition of your existing cabinet glass and discuss your replacement options. Your preferences, budget, and any design changes you desire will be taken into account. The BGS Glass team can help you choose from a wide range of cabinet glass types, designs, and textures.

With accurate measurements, we ensure the new glass panels are custom-fit for your cabinet doors. We can also accommodate any unique design requirements or modifications you may have. Our skilled team safely removes the old glass panels and installs the new ones with precision and care. We ensure proper alignment, installation of hardware, and flawless finishing touches.

Choose our cabinet glass replacement services to give your cabinets a fresh, updated look that complements your style and breathes new life into your space.
Cabinet Glass Repair
If your decorative cabinet glass has incurred damage or faces issues, our cabinet glass repair services are here to restore both the functionality and beauty of your cabinets. Our team of experienced professionals can address a wide range of glass-related problems.

If you notice fogging or moisture trapped between the panes of your cabinet glass, we can disassemble, clean, and reseal the glass to restore its clarity. Additionally, our skilled team can effectively remove scratches and blemishes from your cabinet glass, restoring its pristine appearance. Our goal is to deliver high-quality repairs that extend the lifespan of your cabinet glass while maintaining its aesthetic appeal.

With our cabinet glass repair services, you can trust us to address your specific needs and restore your cabinets to their original condition. We take pride in our attention to detail and craftsmanship, ensuring your satisfaction with the results.
Cabinet Glass Types for Different Rooms
Cabinet glass can enhance the aesthetics and functionality of various rooms in your home. Here are some popular glass types used in different areas: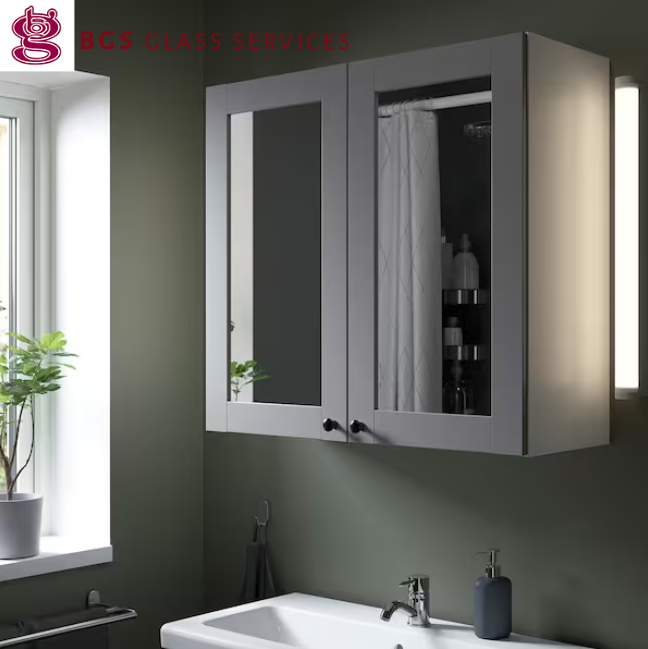 Kitchens: Clear glass or frosted glass is commonly used in kitchen cabinets. Clear glass allows you to showcase your beautiful dishware, while frosted glass adds a touch of elegance and diffuses light to conceal the cabinet contents partially.
Dining Rooms: Leaded glass or textured glass can create a sophisticated and captivating look in dining room cabinets. Leaded glass adds a timeless charm, while textured glass adds visual interest and a unique texture.
Living Rooms: Mirrored glass is an excellent choice for living room cabinets. It reflects light and creates an illusion of a more spacious and brighter room, adding a touch of luxury to your living space.
Home Offices: Frosted glass or clear glass with a minimalist design is ideal for home office cabinets. Frosted glass provides privacy while still allowing light to pass through, creating a professional and stylish atmosphere.
Bathrooms: Frosted glass or mirrored glass is often used in bathroom cabinets for privacy and aesthetics. Frosted glass allows diffused light while maintaining privacy. Mirrored glass combines the functionality of storage and a reflective mirror for your bathroom cabinets.

By selecting the appropriate cabinet glass types for different rooms, you can enhance the overall ambiance, functionality, and style of each space, making your home truly shine.
Contact our Decorative Cabinet Glass Installation, Replacement, and Repair Experts for a Free Quote!