Milwaukee Replacement Windows, Doors, Mirrors and Glass
For over two generations, BGS Glass Service has been committed to providing quality craftsmanship glass installation and glass repair services throughout Southeastern Wisconsin.
Robert C Williams first founded BGS Glass Service in the late 60's in West Allis, WI as a one man glass shop with determination to provide superior glass service, quality workmanship, and creative design. With exceptional knowledge in the glass field, Bob's determination almost immediately became a success. BGS Glass Service quickly grew from a one man glass shop to a full team of professional glass experts. In 1998, BGS Glass Service moved to an establishment in Waukesha, WI to better service our glass installation customers. BGS Glass Service remains a family owned and operated business as the Waukesha glass company is now proudly operated by Bob's son Shannon Williams.
Milwaukee Glass Supplier for Residential and Commercial Construction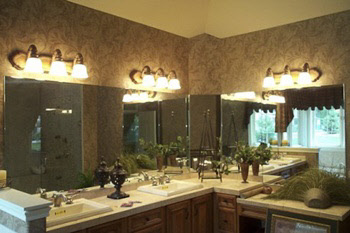 Today, BGS Glass Service is a leading glass supplier for the greater Milwaukee area. BGS Glass Service is a member of the Metropolitan Builders Association (MBA), National Association of the Remodeling Industry (NARI), Better Business Bureau (BBB), and Waukesha County Chamber of Commerce. Our dedication to providing exceptional customer service and top of the line glass installation service has helped us stand up against the best in the Milwaukee replacement window industry.
We serve commercial and residential customers with glass door, custom mirror, interior glass, plexiglass, or screen door installations. Our customers know they're getting high quality craftsmanship and cost-efficient service. Years of experience and a vast knowledge of the glass and door industry ensures the highest level of satisfaction on every job we perform. As a family owned and operated business, we provide friendly and quality service which exceeds the industry standard.
Milwaukee Commercial Glass Service
BGS Glass Service partners with many businesses throughout Wisconsin to fulfill all their glass needs for commercial glass installations and repairs. BGS Glass Service is proud to be chosen as the sole glass provider for many industry leaders. BGS Glass Service is recognized throughout Southeastern Wisconsin for our uncompromising dedication to customer service excellence and quality. We provide glass and door installation services which are unparalleled in today's industry. Our commitment to personalized, dedicated, and cost-efficient service has given us a respected reputation in commercial glass installation.
BGS Glass Service teams with Brookstone Home Builders and Remodelers acting as their glass provider for shower door glass. A relationship with our friendly and professional Milwaukee window replacement experts means lasting loyalty and dedication to your satisfaction. The cost-efficient services from BGS Glass Service are ideal for commercial interiors, storefronts, or custom mirror installation.
Waukesha Window, Door, Glass Shower Door and Mirror Showroom
Come visit our glass showroom located in Waukesha, WI to work with our glass service professional to create the home of your dreams. View our innovative and aesthetically pleasing glass shower doors, custom mirrors, residential doors, or window installation options to find the perfect solution to your glass service needs. BGS Glass Service 1620 Arcadian Ave. Waukesha Wi. Ph-262-513-2806.
For over two generations, BGS Glass Service, LLC has been committed to providing quality craftsmanship glass installation and glass repair services throughout Southeastern Wisconsin.
Custom Glass
We are your custom glass...
consultants
contractors
designers
fabricators
installers
company
Consultants
You're going to want help understanding your option and what's best for you.
Contractors
Contractor can be kind of a dirty word, but bottom line we are better than even great remodelers at doing what we do.
Designers
Craftsmanship is one thing, artisanship is another. If you want great work, you'll need both.
Fabricators
Getting the custom glass built right so it fits precisely where it needs to is critical.
Installers
Installing the work meticulously and deliberately is the mark of superior glasswork.
Company
If you want doors, windows, storefronts or showers to send a meticulously chosen aesthetic, we're it.