Residential and Commercial Glass Services in Milwaukee
Commercial Glass Services
BGS Glass Service offers a wide variety of commercial glass services for all types of office, industrial and retail buildings. BGS Glass Service's windows are looked in, gazed out, and peered through all over southeast Wisconsin.
Our services include complete remodeling of your storefront windows. We can give your commercial building an immediate facelift by updating to a modern look. We have installed commercial glass for everything from bank doors and teller windows to the windows on fast food restaurants.
Residential Glass Services
Whether you need a new glass entry door, a window replacement or need the seal on your patio door fixed, our team of glass specialists has the tools and experience to get the job done quickly and cost-effectively.
Our residential glass services include installation and repair of:
Windows
Storm Doors
Patio Doors
Screens
Mirrors
Custom Glass
Thermopanes
Shower Doors
BGS Glass Service is renowned for our attention to detail and exceptional service. We do extensive work in Waukesha installing residential windows, thermopanes, and glass shelving & tabletops.
Custom Glass Colors, Cuts, Textures and Finishes
BGS Glass Service offers a window of opportunity for your Wisconsin home or commercial building with a large variety of glass colors, textures, and finishes. Choose textured, tinted glass for your Waukesha bathroom shower door installation, or a custom finished full view glass storm door to increase your Milwaukee home's energy efficiency. Enjoy a clear, unobstructed view of the outdoors with a double pane picture window installation.
From large scale glass installations in Milwaukee office buildings to the smallest custom glass cutting request, call BGS Glass. All glass glazing, replacements and installations from BGS Glass Service are completed with the same attention to detail and commitment to quality.
Residential Shower Door Design and Installation
BGS Glass Service provides superior shower door installations in southeastern Wisconsin. A glass shower door is a useful, elegant addition to any home. We offer an incredible selection of styles and textures, so you can find one just right for your shower.
Framed Shower Doors
Framed shower doors are the most affordable option and feature a metal frame which goes around all panels, including the door itself. They are available in two distinct styles: sliding or hinged.
Our framed shower doors feature a thinner glass, which can be customized in any of our glass designs or trim colors to complement your bathroom. Framed doors are durable, easy to clean and instantly transform the look of your bathroom.
With our many hardware options, you'll find the perfect look for your bathroom shower door.
Semi-Frameless Shower Doors
Semi-frameless shower doors have a metal border around the entire structure except for the main door. These doors are a hybrid between framed and frameless shower doors.
A semi-frameless shower door offers modern styling at a great price. They are available in sliding or hinged styles. The glass can be customized to fit your tastes and will give your bathroom an instant facelift.
Our glass experts will help you find just the right look for your shower door.
Frameless Shower Doors
Frameless shower doors have thicker glass than the framed and semi-frameless doors. This style is the most durable glass shower door we offer.
Our shower doors also keep steam and excess water trapped in the shower, leaving your bathroom floors clean and dry.
With the help of our shower designers, you'll get the best frameless shower doors to complete your bathroom remodeling project.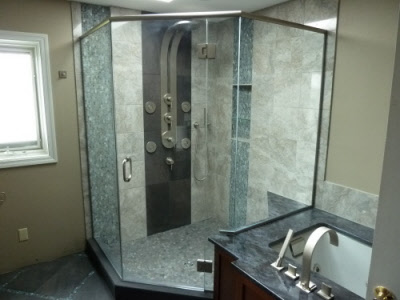 Professional Window, Door and Glass Installation and Replacement in Milwaukee

Our glass professionals are committed to providing the highest quality glass products, factory direct pricing, impeccable installation and excellent service. While other Milwaukee glass companies cut corners to get the job done, the only thing BGS Glass Service cuts is high-quality glass to exact specifications.
See through the tinted truth of other Milwaukee glass installation companies and commercial glass glazing contractors. With dedication to complete customer satisfaction, attention to detail, on-time glass installations, and quality craftsmanship, it's crystal-clear BGS Glass Service is the number one choice for Milwaukee glass window replacement and new glass installation.
Wisconsin Windows and Glass Doors Installed
From windows to glass doors, even glass tabletops and glass shelving, BGS Glass Service is the clear choice for all your glass replacement and installation needs. Don't live life in a fog; see clearly again with a quality thermopane glass replacement from BGS Glass Service Milwaukee.
From residential glass replacement to commercial storefront window installation, contact BGS Glass Service in Waukesha.
Bullet-Resistant Glass Installation for the Milwaukee Area
It's unfortunate, but there are areas around Milwaukee where crime is so rampant it's necessary to have bullet-resistant glass to keep employees safe and deter robberies. Bullet-resistant glass isn't actually glass. It's made of high-strength polycarbonate and acrylic panels. It can also be made by laminating polycarbonate between two sheets of regular glass. Thickness ranges from about a quarter of an inch to 3 inches. As you might expect, the thicker the "glass," the better it's ability to stop a bullet.
What's the difference between bullet-proof glass and bullet-resistant glass?
"Bullet-proof glass" is a bit a misnomer because no glass (or polycarbonate) is completely bulletproof. With repeated shots or a shot from a large enough caliber firearm, any "bulletproof" glass can be pierced. The correct term is "bullet-resistant glass."
Waukesha Replacement Window, Door, Glass Shower Door and Mirror Showroom
Online "window shopping" is fine to get some initial ideas and inspiration, but we suggest you stop by the BGS Glass Service Window and Door showroom located in Waukesha, WI for a clear look at our fine quality glass products. You'll be able to browse a large variety of shower door glass and finish styles, mirrors, and windows. To make your glass-buying experience as easy as possible, our Waukesha glass specialists are on hand to help find the best glass solution for you.
Contact BGS Glass Service for replacement windows, entrance doors, shower doors, and custom cut glass and mirrors.
BGS Glass serves homeowners and businesses throughout Waukesha, Milwaukee and all of southeastern Wisconsin