Semi-Frameless Shower Door and Panel Waukesha: 1/4 inch Clear Glass/ Brushed Nickel Finish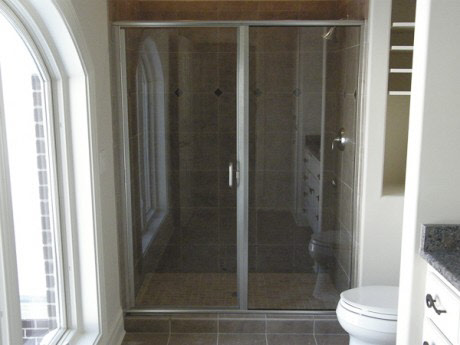 A Wisconsin custom shower door installation by the Waukesha shower door installers at BGS Glass gives your bathroom elegance and style. This Waukesha semi-frameless shower door installation included a modern brushed nickel finish. The glass of the semi-frameless shower door is ¼" thick glass with a polished edge. The Waukesha shower door swivels on a sturdy hinge keeping the door level for its many years of use. The semi-frameless shower door handle is constructed of 6" back-to-back pull handles and the door secures with a high energy magnetic closing system keeping the door from swinging open unnecessarily. A clear splash plate with sweep is also attached to this Waukesha semi-frameless shower door, ensuring a dry bathroom floor. A clear glass enclosure expands the bathroom space making this Waukesha bathroom open and inviting.
Contact BGS Glass for a Waukesha glass shower door installation today at 262-513-2806.