Semi-Frameless Shower Door Waukesha: 1/4 inch Clear Glass/Brushed Bronze Finish installed in Waukesha County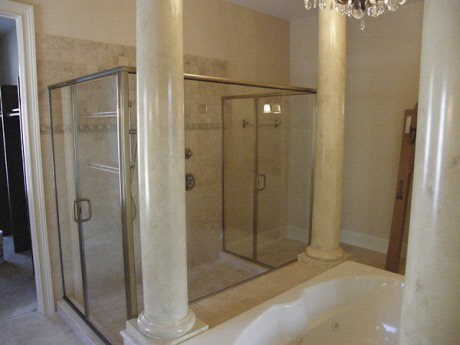 A Waukesha semi-frameless shower door enclosure made with quality materials from BGS Glass was the perfect addition to this Waukesha home bathroom remodel. Made with ¼" glass with polished edges, this shower enclosure has two semi-frameless shower doors. Each shower door has a pair of 6" back-to-back pull handles and quality hinges ensuring a level functioning shower door for years to come. The shower door enclosure is waterproofed with a sealed bulb weather strip. The little bit of frame in this project is in a brushed bronze finish matching the homeowners fixtures and hardware. Full glass shower door enclosures expand a bathing space allowing natural light to enter the deeper recesses of the bathroom and allowing the eyes to absorb the full contemporary design of the room.
For professional Waukesha shower door installation services contact BGS Glass Waukesha today at 262-513-2806.