Pewaukee Semi-Framless Shower Door Installation:1/4 inch Custom Etched Glass/ Brushed Nickel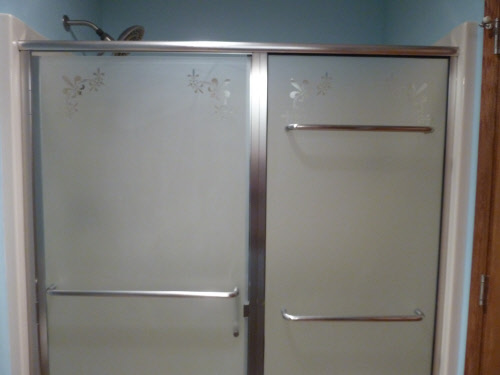 The professional Waukesha shower door installers at BGS Glass were hired to replace a shower curtain in this Pewaukee bathroom. A Pewaukee semi-frameless door and panel was custom fit to the bathtub/shower enclosure, ridding the homeowner of a shower curtain and giving them a more useful and elegant space. The professional shower door installation included a semi-frameless shower door and custom fit glass panel both consisting of ¼" etched glass. Decorative, custom details were added to the corners of the glass adding a touch of beauty to this shower door enclosure while maintaining privacy. Three tubular towel bars were fastened through holes in the glass adding useful space. The Pewaukee semi-frameless door closes with a high energy magnetic closing system and has a clear splash plate keeping the bathroom floor free of water. BGS Glass' Waukesha shower door designers and installers were able to revitalize this Pewaukee bathroom.
Contact BGS Glass today at 262-513-2806 to revitalize your bathtub enclosure with a Pewaukee custom glass shower door.