Miwlaukee Walk In Shower E1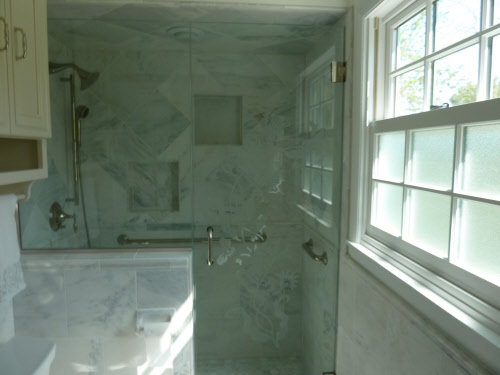 This image showcases a walk-in shower created by BGS Glass Service and installed in Milwaukee. The family was looking to replace their old-fashioned and hard-to-use shower door. They contacted our Milwaukee shower door installation experts to view modern shower door options. We educated them on our frameless shower door materials, finishes and colors to help them make informed decisions about their custom shower door selection. They chose clear glass material with a custom door trim and hardware to complement their white marble tiles in the bathtub and sink. BGS Glass Service provides a wide range of glass shower doors including clear glass, bronze, smoked grey and more. We also provide a versatile selection of chrome, bronze and brass shower door trim. All custom frameless shower doors are crafted with thick tempered glass to resist damage and feature self-centering hinges for functionality. Our Milwaukee custom shower door installation experts will work with you to provide the very best shower door installation service.
Contact our Milwaukee frameless shower door specialists for more info on our services.