Custom Frameless Shower Enclosure: 3/8 Inch Clear Glass/ Brushed Nickel/ 10 Inch Ladder Pull installed in Wales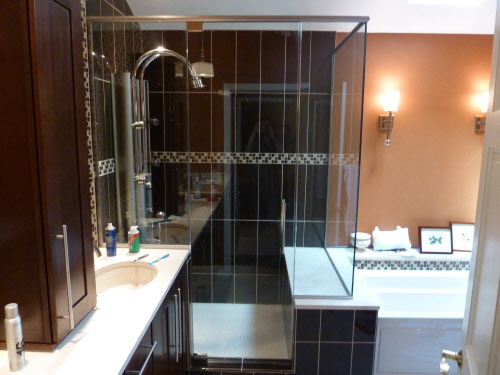 Custom Frameless Shower Enclosure: 3/8 Inch Clear Glass/ Brushed Nickel/ 10 Inch Ladder Pull installed in Wales
Our Wales shower door installation experts installed this extravagant shower door enclosure. This image shows an alternate view of a newly installed shower door enclosure in Wales. BGS Glass Service specialists designed this shower enclosure at an affordable rate. The homeowners wanted a beautiful, compact frameless shower to fit perfectly in their bathroom.
This glass shower door enclosure is made with high quality glass to last. The 3/8" glass thickness is difficult to break, crack, and offers amazing clarity. The brushed nickel door hinges and handle resists rust and other wear. BGS Glass Service also installed a sturdy 10" ladder pull. Our glass shower doors and enclosures are made with minimal metal for aesthetic and durable quality. This shower enclosure will look beautiful and last this family for many years.
Custom Frameless Enclosure
3/8" Clear Tempered Glass
Brushed Nickel Hardware
10" Ladder Pull Handle
Pivot Hinges
Call our custom shower door installation professionals today at 262-513-2806 to learn more about our glass repair and installation services in Wales.
Contact BGS Glass Services for a free quote on a frameless shower installation.