Custom Frameless Shower Enclosure: 3/8" Clear Glass/ Brushed Nickel/ 10" Ladder Pull installed in Wales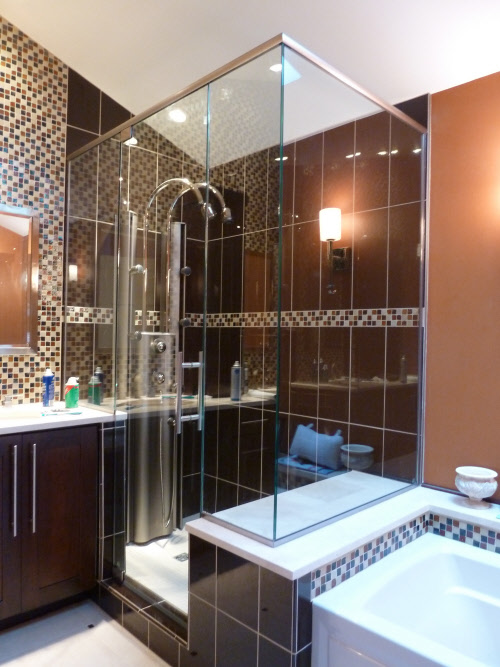 Custom Frameless Shower Enclosure: 3/8 Inch Clear Glass/ Brushed Nickel/ 10" Ladder Pull installed in Wales
This image exhibits a high quality shower door enclosure installation in Wales, Wisconsin. BGS Glass Service helped this family add more quality to their high-end bathroom. Our Wales shower enclosure specialists used 3/8 inch thick clear class for durability. Our shower door installation specialists expertly determined the right dimensions to precisely fit the shower. We also installed a 10 inch ladder pull and added brushed nickel hardware to match the shower head and sink. The homeowners love their new spacious, luxurious custom shower door enclosure in Wales.
BGS Glass Service installs high quality custom shower door enclosures throughout Southeastern Wisconsin. We provide a wide selection of design options to tailor to various shower and bath dimensions. Our glass comes in a variety of finishes, colors, styles, patterns, thickness and clarity to fit your bathroom remodeling needs.
Custom Frameless Shower Enclosure
3/8" Clear Tempered Glass
Brushed Nickel Hardware
10" Ladder Pull Handle
Pivot Hinges
Call BGS Glass Service at 262-513-2806 for your custom shower door enclosure in Wales.