Rectangular Mirror Installation Brookfield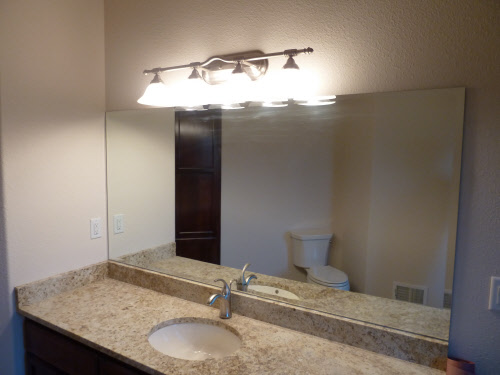 These homeowners wanted to remodel their bathroom with a more modernized look. They decided a new mirror replacement was a subtle, yet noticeable addition to their bathroom. The family contacted the Brookfield mirror installation professionals at BGS Glass and asked for a simple yet decorative mirror. After discussing the glass mirror styles and service options with homeowners, our Brookfield glass experts installed this beautiful rectangular custom glass mirror. We meticulously handcrafted this cut glass to fit the measurements of the bathroom countertop. This mirror is more reflective than the old one and will last many years. Whether you want mirror installation to fit the latest home interior décor trends or just a simple, high quality bathroom mirror, trust BGS Glass. We provide custom cut glass installation, repair and replacement services for homes in all of Southeastern Wisconsin.
Contact the Brookfield custom mirror installation experts from BGS Glass at 262-513-2806.