Brookfield Custom Beveled Mirror Installation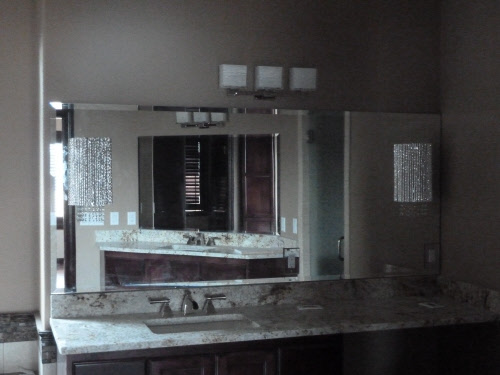 These homeowners wanted to add value to their bathroom and make it look impressive for guests. They turned to BGS Glass for a custom cut glass mirror in Brookfield. Our glass installation experts provided them with bathroom vanity mirror options to make their bathroom look great. Our professional Brookfield mirror installation made this bathroom look upscale with a beautiful new mirror. This beveled mirror was cut with precision by our Brookfield glass specialists to precisely fit the width of the bathroom countertop. The custom cut edges also make this mirror look unique. This mirror is built with durable, high quality materials to last years. The mirror reflective quality is also better than the family's original mirror. BGS Glass Brookfield mirror installation specialists provide countless options of glass designs and cuts to tailor to your needs. Whether you need expert glass repair or a new custom glass mirror installed, we provide the highest quality services at the most reasonable prices.
Contact the Brookfield mirror repair experts at BGS Glass for more information on our top of the line mirrors at 262-513-2806.