Beveled Edge Mirror Installation Brookfield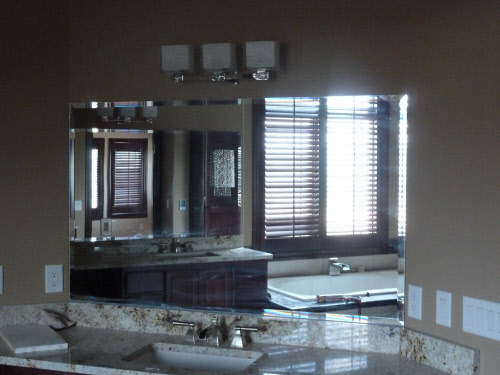 This family needed a new vanity bathroom mirror installed in Brookfield. They contacted the Milwaukee area's best glass service company for help. BGS Glass mirror replacement specialists provided these homeowners with various custom cut mirror designs at excellent prices. The finished product is this stunning custom cut mirror with beveled edges. This bathroom looks brand new with this professionally installed mirror, thanks to BGS Glass. Our Brookfield glass installation and repair specialists pay precise attention to detail when cutting glass for mirrors and windows, ensuring the measurements fit the width of the bathroom countertop. We are proud carriers of the most durable quality glass in different cuts, colors and designs.
Contact the Brookfield mirror installation and repair professionals from BGS Glass at 262-513-2806.